National webinar on Insurance Industry in Pandemic Times – Present and Future
Date: 25/09/2021
The Department of Professional Accounting and Finance, Kristu Jayanti College (Autonomous), Bengaluru, organized a national webinar on "Insurance Industry in Pandemic Times – Present and Future" on 25th September, 2021. The objective of conducting this webinar was to understand the impact of Covid-19 on the insurance sector and to practically enlighten the students regarding the functioning of insurance industry.
Mr.T.L.Aarunachalam, Director & Head-Cyber and Emerging Risks Practice, Bharat Re-Insurance Brokers Pvt. Ltd. India, was the resource person of the Webinar. More than 600 participants, including the learned professionals from various other institutions all over India participated in the webinar. Mr.T.L.Aarunachalam, highlighted that the importance of Insurance coverage claimimg that the pandemic had given us all a reality check. He stated that the life insurance claims increased 5-10 times post the 2nd wave, while general insurance like motor insurance etc., have witnessed a dip. He also shared about the recent developments and trends in the insurance sector. The career opportunities and courses offered in the field of Insurance were discussed. Several queries came up for discussion and the speaker addressed all the queries.The session was informative and interactive.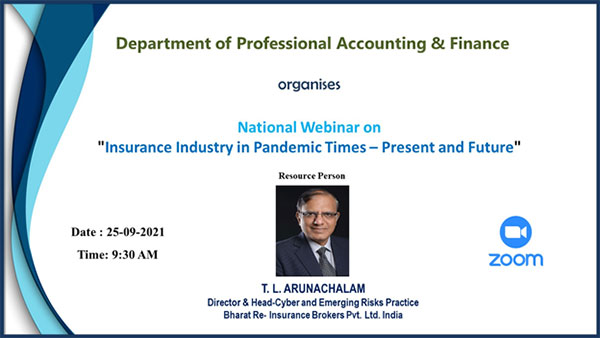 ---
Natioanl Webinar on Creating Value through Corporate Restructuring
The outburst of the pandemic has caused a series of unprecedented challenges for the economy. Companies are grappling with significant disruptions and uncertainties in managing their business. Corrective actions are therefore imperative for traversing through such challenges such as foreseeable losses, disrupted supply chains, liquidity crisis and other risks. It would be important to accordingly, revisit and re-think strategy for restructuring opportunities to align businesses for their survival and resurgence.
The Department of Professional Accounting and Finance organised a National Webinar on "Creating Value through Corporate Restructuring" on 31st August, 2021.The resource person for the webinar, Shri. Sudhakar Giridharan, partner at 4-i Services, touched-base on various restructuring opportunities that businesses can opt for in order to revive and recoup from the disruptions caused by the pandemic. The webinar was conducted from 5:30 p.m. to 6:40 p.m. and was organized through the zoom platform and 540 participants joined the session. After the session, feedback was collected from attendees on the effectiveness of the session. Overall the session was informative and apt in the current state of affairs.