Value Added Course on Art of Copy Writing
Date: 22 to 26 August 2023
Value Added Course (VAC) on "Art of Copy Writing" was offered to MA Journalism and Mass Communication students in the first semester of the academic year 2023-24.
The course objective is to impart the principles of copywriting and copy visualization to the students as it equips them to write compelling copy for different media. The course facilitates an understanding of different types of advertising to help the students write compelling copy as per the industries' requirements. The course also looks into the ethical considerations in advertising so that the students can evaluate advertisement copy for truthfulness [K2] and fair competition.
The classes were conducted by imparting the fundamentals of copywriting through interactive lectures using audio-visual tools. The students were shown different examples of advertisements and discussions were carried out on the effectiveness of the ad copy, ethical considerations, and visualization. The course aimed to impart a holistic understanding of creating an effective advertisement with a strong copy. The course gives the students an understanding of typography, colour theory, elements of design, visual semiotics and the importance in creating an effective advertisement. Students were given various activities such as coming up with visual metaphors for ad copy,[K3] which suggests different attributes of a product.
The students were trained to analyse and interpret advertising copy. The classes had theoretical and practical engagements to create a learning space by doing[K4] . Various activities like analysis of the advertisements were also conducted to develop students' creative skills.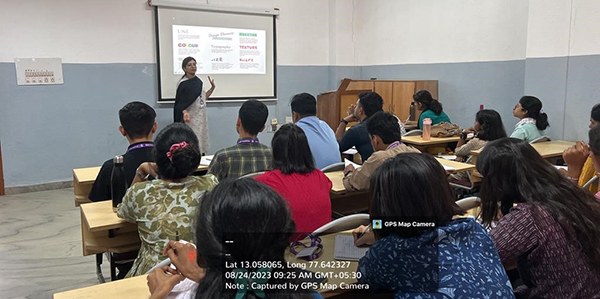 ---
VAC for III MA JMC: Media Content Analysis: A Qualitative Approach
The Department of Media Studies at Kristu Jayanti College, Autonomous, organized a five day "Value Added Courses" on Media Content Analysis: A Qualitative Approach for the III semester MA JMC students. The course aimed at equipping students with the essential tools and knowledge required for success in their academic pursuits. This initiative ran from July 28th to August 2nd, 2023. These value-added courses primarily emphasize imparting practical wisdom and expertise in the field of media studies. The course curriculum encompassed a diverse array of subjects, including but not limited to Marxism, socialization, structuralism, and hegemony. The teaching methodology employed interactive lectures and engaging group activities, ensuring an immersive learning experience for the students. Furthermore, students gained insights into the application of human behavior, emotions, and cognition in media psychology. This knowledge enhances their ability to enhance media content and analyze audience responses, thereby optimizing the impact and effectiveness of media communication.