Workshop on Data Analysis for Beginners
Date: 10/05/2022
Data analysis is becoming one of the most in-demand skills of the 21st century. Data analysis is defined as a process of cleaning, transforming, and modeling data to discover useful information for business decision-making. The purpose of Data Analysis is to extract useful information from data and taking the decision based upon the data analysis. In this regard, Workshop was conducted for the students of IInd year all BCOM Professional Students. The main objective of this session was to guide the students in the area of Statistical Analysis.
This workshop has covered the following topics:
● Primary Data – Research Topics
● Secondary Data – Research Topics
● Descriptive Statistics
● Correlation
● Calculation of Stock Return using Stock Price.
● Financial Statement Analysis.
The students responded very energetically and participated actively throughout the session. This session was ceased by the discussion of the random strategies executed among all and suggesting advice to enhance it.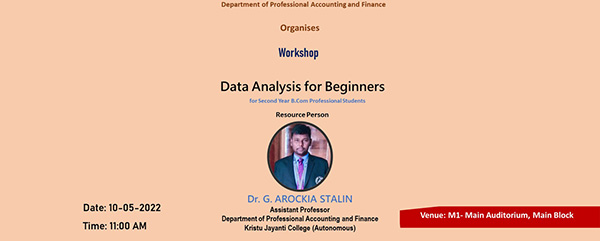 ---
Workshop on Leveraging LinkedIn Masterclass for students
Date: 5th October, 2021
Department of Professional Accounting and Finance conducted a workshop on Leveraging LinkedIn Masterclass for Fifth-semester B. Com students for the academic year 2021 – 2022. LinkedIn is a professional network community designed to help students and employees make business connections, share their experiences, and showcase their resumes to find and apply for jobs. As a student, they can use LinkedIn to search for their dream job, stay connected to a particular industry, and enhance their professional reputation. This platform is primarily used for professional networking and career development, and allows job seekers to post their CVs and employers to post jobs. In this regard, a workshop on Leveraging LinkedIn Masterclass was found apt and hence this programme was organized on 05th October 2021 through the zoom platform.
The Resource Person of the day was Ms Preeti Choudhary the Founder of LinkedInLocalIndia & Creator of PAN India #LinkedInLocalIndia Community She highlighted about how students can build and update their profile for better employment opportunity. She expressed the important points to be noted while building the LinkedIn Profile insisting on Dos and Don'ts in LinkedIn profile.
This session was interactive and informative and the students were encouraged to create and update their profile and also to connect to the people who can help them with their career opportunities.