A Session on "21st Century Human Values"
Date: 01 October 2021
The Department of Professional Accounting and Finance organized a Session on the occasion of Gandhi Jayanti. The topic for the session was "21st Century Human Values. Human values are of immense importance to lead a fulfilling life. This event was organized having in mind the relevance of human values in the 21st century. Inculcating these value in one's everyday life can help us become better human beings as the decisions we make are a reflection of our values and beliefs.
The speaker started the session asking students what their understanding is about human values. The speaker then spoke on few aspects which are relevant in the current generation, such as being gender neutral, being local, social media ethics, professional ethics and importance of triple bottom line. The topic was very relevant and the speaker explained through very thoughtful issues from her personal experiences. The speaker explained on how to enrich oneself with human values. The session was conducted from 10a.m. to 11a.m. and was organized through the zoom platform. 380 participants joined the session. Overall the session was inspiring.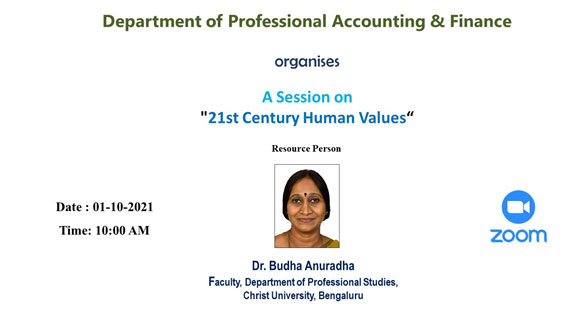 ---
You are the Chnage
The Department of Professional Accounting and Finance, Kristu Jayanti College (Autonomous) organized "Manavataavadam" Humanitarian program titled "You are the Change" in commemoration of "World Humanitarian Day" on 19th August 2021.
Ms Nicole Furtado, a covid warrior shared her experiences and glimpses of the Covid 19 victims and their struggles and also shared her experiences in giving a dignified farewell to the covid victims who succumbed to the virus.
Ms Nicole Furtado, BSW, Final year student of St. Joseph College (Autonomous), Bengaluru addressed the gathering and shared their most unforgettable moments while they volunteered to give decent burials to the victims and also shared the circumstances under which they worked. Further, she sensitized on how everyone could do their bit by extending their help in small ways. She also shared her views about sustainable living and showed the participants some of her daily use items like coffee cup, toothbrush, comb, and straws, notebooks which were either made of plant by-products or recycled materials. She emphasized on the need to protect the environment by planting trees, saving water and electricity and stand up for environment movements.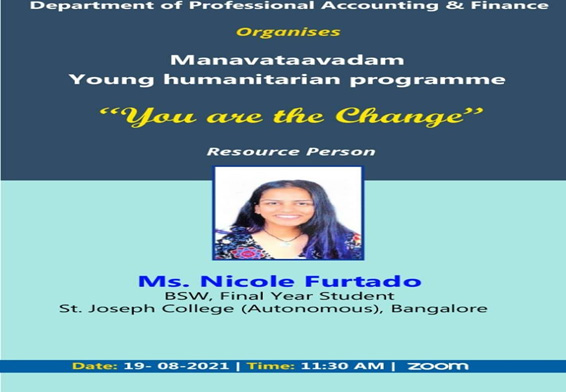 ---