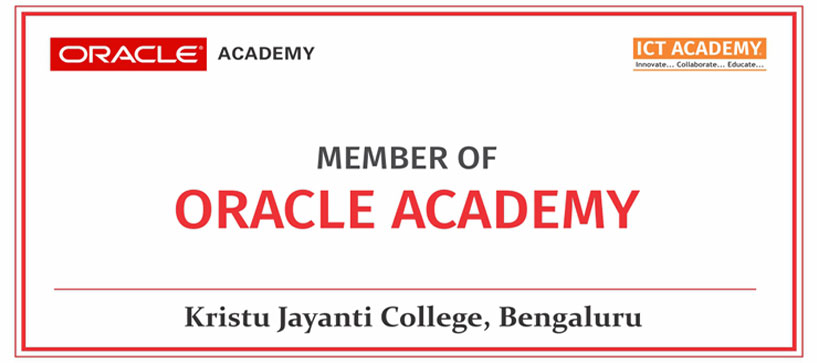 Academic Alliances
SODACODE2022 Hackers' Bootcamp 01
Date: 21-03-2022
The SODACODE 2022 Hacker's Bootcamp 01, conducted on 21st March 2022 was hosted by the Computer Science Department for the skill training of UG and PG students, and to give an orientation about SODACODE Hackathon. The inaugural session started at 10:00 am, by the event in charge Prof. Ayshwarya, Faculty, Kristu Jayanti College. Prof. Sevuga Pandian A, HoD, Department of Computer Science-UG, extended a cordial welcome to the guests and the gathering, followed by introduction of the key resource person Mr. Sanil. The resource person took over the session on to give a brief introduction about the program, importance of Open source and many other core topics, following him, all the other resource persons shared their views on how the bootcamp and the open-source technology would be beneficial to the students and the organization, and how this very neglected topic could turn out to be a driving force for all inventions around the world on top of creating innumerous learning opportunities to developers all around the globe irrespective of their location and qualification.
After the speakers finished their interaction with the students, on a closing note Mr. Sanil threw light on the schedule for the day and its grave benefits. The session was brought to an end at 10:45 am after which, all the dignitaries, staff and gathering departed the auditorium for a tea break.After the Inaguration, all the participants were request to assemble in AL1 and AL2 for hands on training and the resource persons trained about Github tool and working procedure, following that the training was completed at 5:00 pm with closing ceremony talk by Dr.Kumar and Prof. Sevuga Pandian.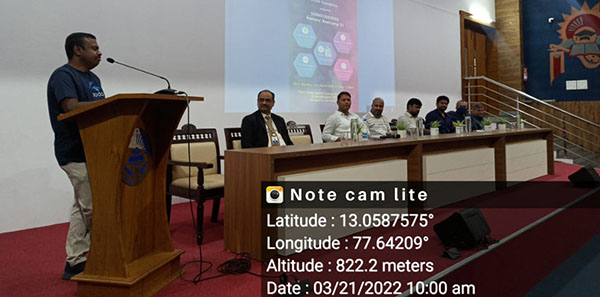 ---
Cisco Networking Academy Inauguration at Kristu Jayanti College, Bengaluru in association with ICT Academy
6 April 2021: Cisco Networking Academy was inaugurated at Kristu Jayanti College, Bengaluru. The initiative is taken to boost up the technology skill of student community, which will pave way for higher employability in the IT/ITeS sector.
Cisco Networking Academy transforms the lives of learners, educators and communities through the power of technology, education and career opportunities. Available to anyone, anywhere. ICT Academy as an authorized partner of CISCO Networking Academy, is aiming at establishing Cisco Networking Academy across its member institutions.
As part of the Cisco Networking Academy - extensive IT skills and career-building programs will be provided to the students. CISCO offer a range of exploratory to career-ready courses that can be combined into complete pathways to prepare students for certification and lucrative, exciting careers that empower the digital economy.
ICT Academy is an initiative of the Government of India in collaboration with the state Governments and Industries. ICT Academy is a not-for-profit society, the first of its kind pioneer venture under the Public-Private-Partnership (PPP) model that endeavours to train the higher education teachers and students thereby exercises on developing the next generation teachers and industry ready students. (www.ictacademy.in)
The certificate of Cisco Networking Academy was handed over to the Principal Rev. Fr. Dr. Augustine George and Prof. A. Sevuga Pandian, Head of the Department - Computer Science by D Vishnu Prasad, State Head Karnataka, ICT Academy. Faculty members department and Karthik B Relationship Manager, ICT Academy were also present in the event.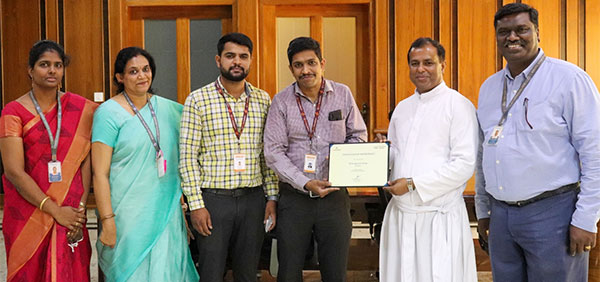 ---
ICT ACADEMY
ICT Academy is an initiative of the Government of India in collaboration with the state Governments and Industries. ICT Academy is a not-for-profit society, the first of its kind pioneer venture under the Public-Private-Partnership (PPP) model that endeavours to train the higher education teachers and students thereby exercises on developing the next generation teachers and industry ready students. With training of teachers and students as the primary objective, ICT Academy has been working through a seven pillar program in the areas of Faculty Development, Student Skill Development, Entrepreneurship Development, Youth Empowerment, Industry-Institute Interaction, Digital Empowerment and Research & Publications.
The issue faced by both industries and institutions is in addressing the gap between academic output and industry requirements. ICT Academy was created as a platform to address this critical issue. To meet the objectives, ICT academy tied-up with corporates of VMware, DELL EMC, Amazon, Microsoft, Oracle, Infosys, IBM, Intel, TCS, Horton Networks, Cognizant, Auto Desk and K7 computing.
ICT Academy has been nominated as Regional VMware IT Academy for India and will be responsible for implementation of VMware IT Academy program across higher educational institutions. ICT Academy has partnered with DELL EMC External Research & Academic Alliance to prepare the next generation of IT professionals for careers in Cloud, Virtualization, Big Data Analytics and Security.
VMware IT Academy Program
VMware provides selected academic institutions with teaching and learning materials developed by VMware, creating a collaborative environment where students can obtain VMware certification and organizations can find skilled workers for the many in-demand and high paying IT jobs available today through VMware IT Academy Program. This program provides students to access high quality educational content, certification potential, and experience with VMware technologies. VMware has organized "VMware - Open Badge Day", where by Faculty/students can take up assessments on various technology fundamentals and earn the newly announced "VMware Digital Badges". It is an opportunity for students to easily and quickly share verified proof of their achievements. The benefits of "open Badge Day" program for students are:
• Display their accomplishment in their e-mail signature
• Combine their credentials to form a complete overview of their skills
• Display their qualifications on social and professional networking sites
• Provide employers with easy, valid verification of their credentials
Students can take up assessments for the following FREE courses (available on self-study via free eLearning) on a designated date and time at the college. The courses for the VMware Digital Badge are Data Center Virtualization Fundamentals, VMware Network Virtualization Fundamentals and VMware Cloud Fundamentals.
AWS Educate
AWS Educate provides an academic gateway for the next generation of IT and cloud professionals. AWS Educate is Amazon's global initiative to provide students and educators with the resources needed to accelerate cloud-related learning endeavors. AWS Educate helps students learn about cloud computing by using AWS technology in their courses. The program includes free AWS credits, training, and content for institutions, instructors and students. Students receive credits for hands-on experience with AWS technology, training, content, career pathways and the AWS Educate job board.
DELL EMC External Research & Academic Alliance
DELL EMC collaborates with colleges and universities worldwide to help prepare students for successful careers in a transforming IT industry through DELL EMC External Research & Academic Alliance program. This program offers unique 'open' curriculum-based education on technology topic such as cloud computing, big data analytics, information storage and management, and backup recovery systems and architecture.
The courses focus on technology concepts and principles applicable to any vendor environment, enabling students to develop highly marketable knowledge and skills required in today's evolving IT industry. This program also makes the students more employable and industry ready professionals. Sharing the same vision as DELL EMC, ICT Academy has partnered with DELL EMC External Research & Academic Alliance to prepare the students as next generation of IT professionals in Cloud, Virtualization, Big Data Analytics and Security.
Microsoft Dynamic Academic Alliance - DynAA
Kristu Jayanti College (Autonomous) along with Microsoft Company academic alliance signed a MOU for CRM [Online] on 31st August 2017, for the development of the standards of the students and the updates of the latest technology for faculty members and the students. By connecting three pinnacles of success - industry, education, and application - the faculty and administration at Kristu Jayanti College are preparing their students by teaching them the essential skills and strategies of Customer Relationship Management (CRM). As a Microsoft Dynamics Academic Alliance (DynAA) member, Kristu Jayanti College receives free solution licenses from Microsoft to teach Microsoft Dynamics CRM in their curriculum. The college is empowering their students to adapt to the changing world by preparing them for the workplace through technology.
The Microsoft Dynamics Academic Alliance works with institutions of higher education worldwide, helping them use Microsoft Dynamics 365 in their curriculum, exposing students to the latest intelligent business applications across Customer Relationship Management (CRM) and Enterprise Resource Planning (ERP) to give them a competitive advantage in the job market. Microsoft Dynamics Academic Alliance Curriculum and E-Learning Curriculum options with the institute curriculum to the next level with resources available today.
By utilizing Microsoft Dynamics CRM, the collection agency strives to keep their information as accurate as possible, while providing a comfortable experience for all parties involved. Microsoft Dynamics CRM during each step of the student's career, but each position offered a unique perspective, showing the wide variety of opportunities available with Microsoft Dynamics-related careers. With the goal of making the students more competitive in the job market, Kristu Jayanti College industry-driven teaching technique is evident in the courses they are offer. Initially, the leadership in the college has designed a course for the students focusing on Microsoft Dynamics content where, upon successful completion, the students could apply for a Microsoft Dynamics Student Certificate. The Microsoft Dynamics Student Certificate documents a student's experience with Microsoft Dynamics, giving them a competitive advantage in the job market.
Students from B.com and BBA of academic backgrounds are able to complete this program, in which every participant will build a Microsoft Dynamics CRM skill set. Kristu Jayanti College recognizes the need for all students who interact with customers to develop skills in CRM. This led them to integrate Microsoft Dynamics CRM software into a wide range of academic areas within their university, including their Marketing, Sales, Management in Information System and other programs in Bachelor of Commerce and Bachelor of Business Administrator students.
ORACLE Academy
Oracle Academy, is the flagship program under Oracle's corporate social responsibility education pillar. Its mission is to advance computer science education and make it accessible to students globally to drive knowledge, innovation, skills development, and diversity in technology fields. Helping students develop computational thinking—logical data analysis and organization, create concise problem statements, identify and implement algorithm-based solutions and generalize and extrapolate solutions skills will be a benefit to them in every subject, in the classroom and beyond.
Oracle Academy's free program offers learning resources and technologies for individual students and educators, and comprehensive computer science education programs and resources for secondary schools, technical/vocational schools, and two and four-year colleges and universities. Oracle Academy member benefits offer educators and students computer science education resources to advance knowledge, skills development, innovation and diversity in technology fields. Oracle Academy membership costs nothing and offers individual learners, educators, and educational institutions access to world-class technology, expertly developed learning materials and curriculum, training, and other resources.