Jayantian Language Training Centre (JLTC)
Kristu Jayanti College provides a forum for learning foreign languages through Jayantian Language Training Centre (JLTC). The centre offers various programs in learning foreign languages- French, German, Japanese, and Spanish. The vision of JLTC is to motivate and encourage students to focus on individual language goals and to make them acquaint in a diverse work culture.
The language training emphasizes in listening, speaking, reading and writing (LSRW) of French, German, Japanese and Spanish languages with the help of expert trainers. JLTC strives to meet the demands of the modern multilingual trend focusing on global competencies.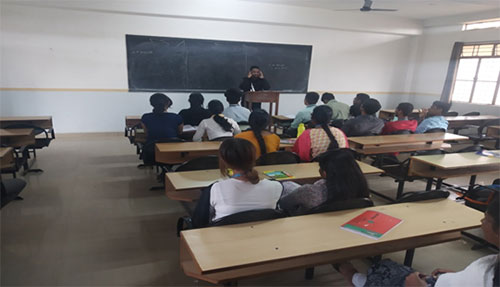 ---
The English Language Lab provides a platform for the postgraduate students to develop their skills in Listening, Reading, Speaking and Writing (LSRW). These classes complement the thrust of the overall curriculum which is designed to equip students in the major skills of language LSRW. The language lab uses Orell Talk software which contains lessons from the beginner, average to advanced learners. It is operational from 4:30-5:30pm, and the lab accommodates twenty (20) students at a time.
Students have benefited immensely from the materials made available to them in the lab, which contains lectures given by world-renowned professors (video and audio). The topic includes language teaching, linguistics and phonetic, that are difficult to be explained without the aid of audio-visual apparatus. The computer-enabled learning is much appreciated by the students as it enhances their learning and understanding.
The students are provided with 20 computers and 20 headsets in the language lab, and the environment is highly conducive for learners. It aims to ensure that students get the standard accent in English which would help them in their career globally.