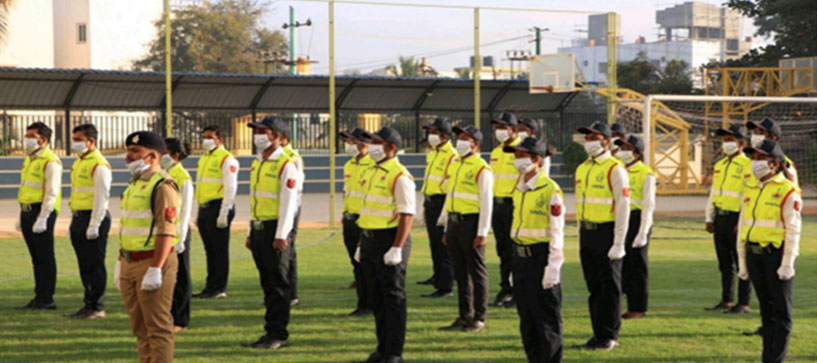 Karnataka Civil Defence Corps (KCDC)

The Civil Defence Corps, Ministry of Home Affairs, Government of India, was established in May 1968 after Parliament passed The Civil Defence Act, 1968 (Act 27 of 1968). Civil Defense is designed to respond to immediate emergency situations, protect the public, and restore vital services and facilities that have been destroyed or damaged by disaster. The Act covers the entire country and includes provisions for non-combatant measures such as providing protection to any person, property, place, or thing in India or any part of its territory against any hostile attack, whether from the air, land, sea, or other places, or depriving any such attack of the whole or part of its effects, whether such measures are taken before, during, or after the attack. It also authorized the raising of Civil Defence Corps and for making Rules and Regulations for Civil Defence.
At the national level, the Director General, Civil Defence under the Ministry of Home Affairs (MHA) is responsible for formulating Civil Defence policies and for coordination. In the states, the Civil Defence set- up is headed by a senior police officer designated as the Director, Civil Defence. At the district level, the District Magistrate/Deputy Commissioner of Police (DCP) of a district is designated Controller of Civil Defence.
Kristu Jayanti College student volunteers are part of KCDC Division 60 Jeevanbeema Nager as Civil Defense Corps members. Civil Defence volunteers are guided by divisional warden to involve in rescue, rehabilitation and relief work – effects of war.
Objectives
• To attract more volunteers to KCDC to serve the country.
• To enlighten the public about the services rendered by the department during crisis.
• To protect life and property of general public during war or natural calamities.
Benefits of KCDC to volunteers
• Training – These qualifications may be useful in your career.
• Personal development – our volunteers get involved in a wide range of activities and develop many useful personal skills.
• Friendships – working with other volunteers is a great way of meeting new people.
• Giving something back -our volunteers know they are helping their communities often in times of great need.
• Uniforms and equipment are all provided.
• Members of the Corps may be called on duty for the following purposes. During such occasions, a nominal incentive as per existing norms is provided.
o training
o practice or exercises
o perform the duties assigned to them by order under the regulations
Institutional KCDC Policy
1. Student Enrolment
• Students who intends to apply for appointment to a Civil Defence Corps must fulfill the following conditions;
o He / She shall be a citizen of India or Bhutan or of Nepal.
o He / She shall have completed the age of 18 years provided that this age limit may be relaxed at the discretion of the competent authority up to a maximum of 3 years for any branch or category of the Corps.
o He / She shall have passed at least the primary standard, that is to say, the fifth class, and this condition may be relaxed by the Controller at this discretion.
o Every person eligible for appointment under regulation shall be required to apply in Form 'A' and also present himself for interview before the competent authority.
o Both men and women shall be eligible for appointment to the Corps.
o A person shall not be entitled to be appointed to the Corps unless he is found to be physically fit and mentally alert.
o Any service in the National Volunteer Force and in the Armed Forces of the Union shall be a special qualification.
• The applications will be scrutinized by committee based on a set of criteria.
• On consent of divisional warden selected applicants will be requested to fill out a Civil Defense Form C in order to receive an official badge from the KCDC.
• On receipt, the official badges must be documented.
2. Volunteer Conduct
• Standard of Conduct - The enduring impression that volunteers make on those they serve reflects directly on all staff, volunteers and KCDC. All words and deeds should help to build our volunteer program and its reputation for quality.
• Dress Code - When volunteering with KCDC, volunteers must follow the dress code guidelines.
• Absenteeism - Volunteers should make every effort to arrive on time for every event or activity that they are assigned to. If you expect to be late or absent, please inform the event coordinator at least 24 hours ahead of time.
• Grievance Procedure - Volunteer have a grievance should report it to the coordinator.
• Discontinuation of Volunteer Service –Prior intimation should be given to coordinators if volunteers wish to leave KCDC for any reason.
• Safety and Liability - It is the responsibility of all volunteers to be familiar with the provisions of policy. Volunteers should always be aware of where they are and what they are doing. Volunteers should pay particular attention to safety instructions and proper equipment use. Volunteers should speak up if they have a safety concern and report any injuries to the person in charge as soon as possible.
• Media Conduct - Volunteers will not represent themselves as a spokesperson under any circumstances without prior approval.
• Alcohol/Drugs - When participating volunteers are prohibited from alcohol, or prescription drugs in any way that is illegal. If found or suspect of violating this policy, you may face disciplinary action, including termination.
3. Faculty Coordinators
• Faculty coordinators are expected to act professionally and in accordance with their position descriptions.
• Faculty coordinators should strictly adhere to the policies, procedure and plan of action in executing the responsibility assigned.
• Faculty coordinators are expected to prepare action plan for an event at least a week before.
• Faculty coordinator who fails to conduct an event assigned are expected to write an explanation in prescribed format.
4. Certificate Policy
• KJC Civil Defence unit will issue the certificates only to the students who meet the required criteria.
• KJC Civil Defence unit will ensure that the certificates are issued within the scope of KCDC Division 60.
• Coordinator shall verify the student's entitlement before issuing the certificate.
• All students who have successfully attained 75% of programs / course will receive certificate in accordance with Kristu Jayanti policy and KCDC Division 60 policy.
• The Coordinator shall document the certificate issued.
5. Credit Norms
• Students should have75% of attendance in the programmes organised by KJC KCDC.
• Within first four semesters of the programme student should attend minimum 30 hrs duration of activities organised by the KJC KCDC.
Procedure for conducting the activities
1. Meeting with the members to design the blueprint of the event.
2. Seek permission from Principal.
3. Prepare and send the write up and poster for review.( review@kristujayanti.com)
4. Event Promotion- Write up and posters to website, Social Media, signage board, student notice through KJC app.
5. Send meeting notice to student volunteers.
6. Meeting with students - Describe the event, define and delegate the roles and responsibilities.
7. Execution of event and collecting the feedback from the students.
8. Report submission- Website and IQAC
Agenda 2021- 22
Activities and Responsibility
Sl.No

Activity

Faculty in charge

1.

Enrollment

Mr. Vinod Baburoa Meghsham
Dr. Vinoth B

2.

Documentation , Social Media, Student notice and Attendance Record

Ms. Shruthi Rose

3.

Volunteering college programmes for discipline management

Mr. Chandrashekar N

4.

Awareness Programmes and Celebration

Independence Day Celebration

Mr. Vinod Baburoa Meghsham

Gandhi Jayanthi Celebration
Blood Donation Camp

Mr. Manjunath S

Republic Day Celebration

Mr. Chandrashekar N

Observing National Hunger Day
National Safety Day

Dr. Vinoth B

Civil Defense Day

Mr. Vinod Baburoa Meghsham

Medical Care

Ms. Neha Guptha

National Youth Day

Mr. Ravishankar

National Unity Day

Ms. Neha Guptha

Social and Health Care

Ms. Shruthi Rose

5.

Training

Parade

Dr. Ganshetwar Sainath Nagnath

First aid training

Mr. Manjunath S

Rope Climbing

Mr. Ravishankar

Fire Drill

Dr. Ganshetwar Sainath Nagnath

Flood Rescue Operation

Dr. Ganshetwar Sainath Nagnath
Faculty Members In charge of KCDC - 2021-2022
| | | |
| --- | --- | --- |
| SI No | Name | Department |
| 1 | Mr. Manjunath S | Management |
| 2 | Mr. Chandrashekar N | Kannada |
| 3 | Mr. Vinod Baburoa Meghsham | Hindi |
| 4 | Dr. Ganshetwar Sainath Nagnath | Hindi |
| 5 | Dr. Ravi shankar K | History |
| 6 | Ms. Shruthi Rose | Psychology |
| 7 | Dr. Vinoth B | Statistics |
| 8 | Ms. Neha Guptha | Law |
---
Reports 2021-2022 [CLICK HERE]
Reports 2020-2021 [CLICK HERE]