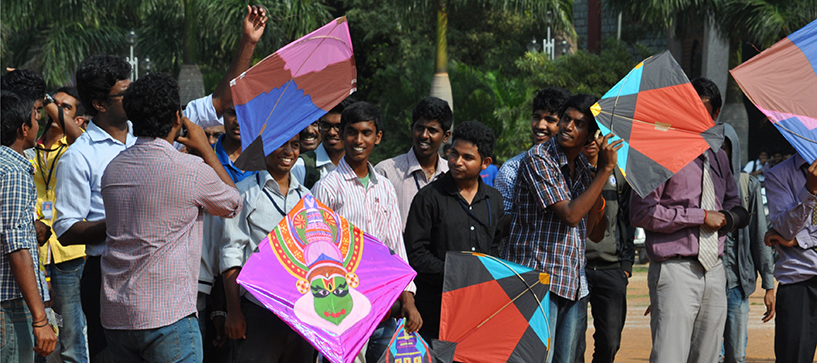 Tourism Club
Video Presentation Competition - on the theme 'Destination Promotion'
The Tourism club provides practical experience to theoretical components dealt in classroom. It enables students to prepare tour plans, financial plans, destination exploration and management. World tourism day is celebrated with food fests, cultural programmes, kite festival and exhibitions.
Tourism Club, had organized a "Video Presentation Competition" to enhance the marketing skills of the students on 17/08/2019 at Mini-Audi II. The Department emphasized on the theme of "Marketing Eco Tourism Destinations". The students of V Semester B. Com Tourism were given the task of preparing a video for marketing the destination of their choice. The students presented their video and had to convince the jury as to why the tourist will visit the destination.
Before announcing the prize winners, Prof.Vijaykumar spoke about the advantages of choosing a Vocational Course and Prof. Retheesh Palakuzhi talk about the significance skill oriented training in the present scenario. Prof.Retheesh has been instrumental in conducting the event and motivated the students to take part in the activities. The prize was bagged by Mr Cleman, Mr. Mario Cletus Sunil, Mr. Praveen Tony, Ms. Glory Jacintha, Ms. Sumaiya and Ms. Merlin from V Semester B. Com Tourism.
Collage Making Competition
The Collage making competition was organized for the B. Com Tourism students under the banner of Tourism Club. The theme for the competition was Ancient Travelers before 1950s. The students were briefed about the significance of the Collage. The competition started at 3.30 p.m. All the groups brought their works. The time allotted was 10 minutes for each group. All the four groups were given ample opportunities to showcase their creativity followed by the theme. The entire group participated enthusiastically along with competitive spirit. The event was judged by Prof. Ponny Thomas department of Tourism, and Prof Lourdnathan from Department of Commerce. The Collage making competition was organized under the guidance of Prof Ratheesh Head, Department of Tourism on 18th July 2019 at 3.30 PM. The winners are Derrick, Rhekha, Sneha, Abin, Amal, Vineetha, Pavan, Prem, Johan, Jacob, Audrin, Mariya, Sharath, Sugana from Ist Semester B. Com Tourism