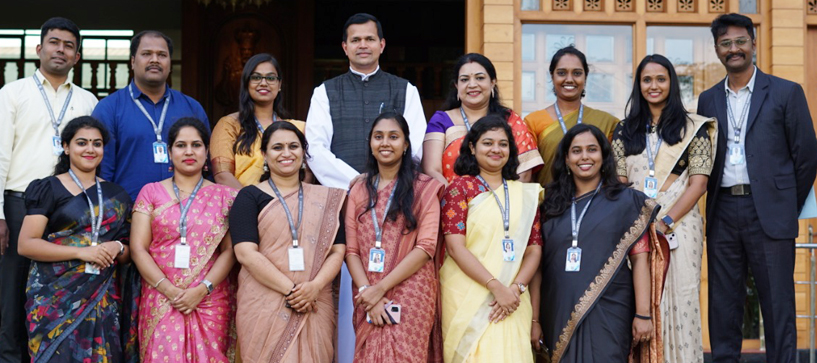 Literary & Cultural Association
Participation in events organized by LCA in the college has enabled the student community to learn and develop their skills and talents. The Kristu Jayanti College team has been the winners in consecutive years at the Youth Festival conducted by Bangalore University and in recent times by Bangalore North University and has emerged as the overall champions in a majority of the events conducted. The excellence and skill demonstrated by the team from Kristu Jayanti is a matter of pride for the college.
Holistic education involves more than just classroom learning and academic training. It nurtures and shapes the personal, creative, and physical development of students. These 'outside-the-classroom' activities expose aesthetic skills, teach leadership, teamwork, thus equipping students to be truly valuable, contributing members to society. At Kristu Jayanti, involvement and participation in co-curricular activities that are literary, creative, and cultural in nature are given emphasis. The performing arts are especially valued, where outstanding facilities and gifted teaching artists elicit productions that harness and display the creative potential of student musicians, actors, and singers. To promote and support the development of creative expression within students, the Literary and Cultural Association is formed by the College.
Under the banner of the Literary and Cultural Association (LCA), Kristu Jayanti College provides a spectrum of creative outlets and opportunities that a student may be interested in and can develop a passion for. Kalajyothi - the intracollegiate literary and cultural fest, music and dance concerts, theatre productions, workshops and training programs, etc., are a few of the many avenues for cultural and artistic expression organized by the LCA.
TRAINING PROGRAMMES
Theatre Workshop and Training
Kristu Jayanti College recognises the vibrance and creative power of the art of Theatre. Thus, workshops / training in mime, skit, one act play and drama are held annually. These programmes enable the growth and sharpening of theatrical and acting skills of the students. The workshops are led by nationally renowned theatre exponents. The students are inducted into a rigorous and methodical training after a selection process that includes several rounds. Spanning 50 hours, the workshop also includes training in expression, makeup and lighting. The college teams trained through the workshop have consistently excelled in zonal, national level events and various intercollegiate events. Students who successfully complete the training sessions and workshops are eligible to earn 3 extension credits.
Training in Choir
Music is an integral part of different activities on college campus, from inaugurating events to celebrating occasions. To hone and develop the musical talents and skills of students, professional training and guidance is provided to equip them with basic knowledge on music theory. Students are selected through an audition and are methodically trained to master the basics of singing such as breathing technique, range, ear training, scales, intervals and modulation. Thereafter, the selected choir performs at music concerts and at various prestigious intercollegiate music festivals while winning accolades at several different events. Students who successfully complete the choir training of 50 hours are also eligible to earn 3 extension credits.
Guitar Certification Course
Kristu Jayanti College also provides training in musical instruments. Music training sessions in Guitar give an opportunity for students to learn the basics and advanced modules in playing this versatile musical instrument. Training sessions are held twice a week to cover 40 hours of training. During this course, students have the option of choosing either Basic or Intermediate or Advanced levels to aid in their individual process of learning. Students who successfully complete the training are eligible to earn 3 extension credits.
KJC-MUN- Model United Nations
Model United Nations is an authentic simulation of the UN General Assembly, UN Security Council, or other multilateral bodies, which introduces students to the world of diplomacy, negotiation, and decision making.
At Model UN, students step into the shoes of ambassadors of countries that are members of the UN, from Argentina to Zimbabwe. The students, better known as "delegates", debate current issues on the organization's vast agenda. They prepare draft resolutions, plot strategy, negotiate with supporters and adversaries, resolve conflicts, and navigate the UN's rules of procedure – all in the interest of resolving problems that affect the world.
KJC -MUN has been established to recreate the spirited diplomacy practices in United Nations, and provide future generation of leaders a chance to explore their in the field of public speaking.
The first chapter of KJC-MUN was the major activity of Debsoc(Debating Society) for the odd semester. The members of debating society were the members of organising committee by default and MUN was open to entire student community of the college. The students who enrolled as delegates were trained through eight training sessions organised by the members of debating society under the guidance of staff coordinators. Mock MUN sessions were conducted prior to the final event.
---
Major Student Achievements 2022-23
LCA student achievements (July 22- Feb 23)